Confession time.  I can't sing. I mean, seriously. In fact, I sometimes wonder how the children in my CC class manage to learn any of the material from someone who teaches most of it with songs that she usually butchers mercilessly. Now, on the upside (sort of), I can actually TELL that I can't sing. I'm not tone deaf. In fact, I have a HUGE appreciation for music and musical people. Before our children came along, my husband (who has an AWESOME voice! The proof is on his album.) and I were season ticket holders to the symphony. We loved it! Then the kiddos arrived and going out became more of a rarity. And we choose to do other things (like go places we can talk in peace!) when we do go out, usually. But, I say all of that to say . . . I really ENJOY the Orchestra 6-weeks of CC! And I have LOTS of ideas for things to do in class and even more for outside of class to help reinforce the concepts we're learning during this period!
Activities for Class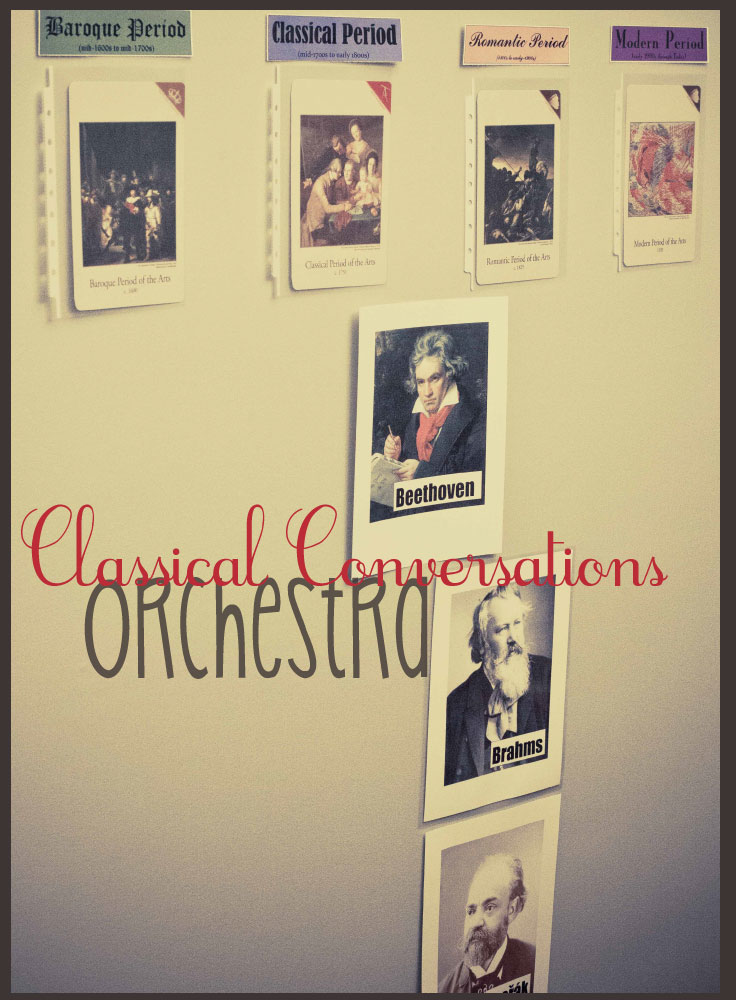 If you're a tutor out there who is stressing about this particular portion of the year, I'll give you my layman's two cents (and empathize with you . . . Tin Whistle is the hardest for me!): Don't get bogged down in whether or not you love the music, or whether or not the children do. You're task is largely the same with the Orchestra as it is with any other subject – teach (and drill) the grammar.
Introduce the time period, explain what a symphony is, what an orchestra is, what the instrument families are (more on all of this below). Then spend some time listening for those things you've discussed in the musical pieces (what kind of emotion do you hear? what instrument families? etc.).
Melody from andherewegomama.com has a great song (with video) and file folder game for reinforcing the different musical periods.  I also like to put something up on the wall in the classroom and make sure we tie the musical periods back to their place in our timeline (it's a good time to pull those particular timeline cards out again), and a picture of each composer as we discuss him. We'll review those things each week and then build on that knowledge. If it's at all helpful to you, you're welcome to download and print off my "Period Headers" and pictures of composers here. 

Mary, from homegrownlearners.com, has uploaded a great file called "SquiltCycle2.pdf" to CC Connected. It's an example of the Squilt (Super Quiet Uninterrupted Listening Time) curriculum she has created (see her blog and website for even more info), and it is chock full of good information for teaching this cycle of orchestra!
When I first started tutoring, I purchased a bulletin board set with nice pictures of the instruments. While I recognize that this might not be entirely in keeping with the "stick-in-the-sand" method of CC (which I do truly respect and generally try to adhere to), having these visuals has worked well for me. The particular set that I have is large, and the sheets can be left as 4 large posters, or they're made to do some accordion folding. I choose just to slap them up on the wall in our classroom each week. They get the kids' attention and make the Orchestra study different from the other studies. I think I paid $12 or $13 for this set in a Parent/Teacher store somewhere and this is the third year I'll use it. It's definitely been worth it to me to have it around!
In teaching Orchestra I will spend time each week talking about the instrument families (If you're looking for more information on instrument families, this website has a great overview to give you information to share with you kids!). We will cover one family each week. Our community learns the Orchestra song in our assembly time in the morning and we add an instrument each week, so I sync our class time up with our assembly time – Week 19: Violin (Introduce all 4 families and focus on the Strings), Week 20: Clarinet (Woodwinds), Week 21: Trumpet (Brass), Week 22: The Horn (Review Brass and Woodwinds), Week 23: Drum (Percussion). We'll use the posters above to assist us as we discuss the instrument families, and we'll also use these worksheets I've created to reinforce some of the facts about the instrument families:

I like to play Bingo with the Instrument Families for at least the first week (Week 19) of Orchestra. It's popular, so we usually play it again during the review weeks (Weeks 23 and 24) if there is time available. It's a great way for kids to get familiar with the instruments and their families.  I downloaded a black and white version off CC Connected a couple of years ago, but I prefer the version that I'm using this year. It's color, and the images are labeled with the names of the instruments, so it reinforces the names and cuts down on confusion. I downloaded it here.
Once we've reviewed the orchestra, our vocabulary, and the instrument families, we'll talk about that week's composer and add his picture to the wall. Classical Music for Dummies has some great information about the composer and the timer period in which he composed. I also like to use the books I've included in the "Books" section below to add more information and visuals to our few minutes discussing the composer.
When it comes to time to listen to the music, I REALLY appreciate the CC moms who put the listening flow charts together and post them on CC Connected each year. This Cycle, a flow chart for each of the three classical pieces has been posted by "thegossards" if you have access to CC Connected and you'd like to download them. This is when I'm thankful to have my "Classical Music for Dummies" CD ripped and loaded on my iPhone, so I can play the songs and watch the time to see where we are in the piece. It helps me to engage the children in class if I can say, "Okay, listen for the . . .  (ex:"Oboe to start playing", "the strings to all come in", "the horn to start crying", etc.)" And, it's helpful to have moms in class with the younger ones to point to where we are on the flowchart (I usually print enough copies for there to be one for every two children to share). Some pieces of music lend themselves really well to this. Others lend themselves better to just listening quietly and drawing/coloring a picture of what the music makes you think of or feel like. There's usually a sheet for this out on CC Connected, as well, usually with a little bio of the composer, but of course a blank piece of paper works fine, too. We're in a very small classroom this year, so we won't be doing any dancing, but in years past, I've also taken paint sticks or large popsicle sticks and cut crepe paper streamers to tape/glue to them and we've whirled and twirled to music that had that feel to it.
If time permits, and things are going well, we might listen to a piece (or a portion of a piece) more than once. When a piece has very distinct sections played by certain instrument families, it can be fun to hand out popsicle stick "puppets" of the instruments and ask the children to raise the family that they hear (this can range from easy to very tough . . . and can be quite funny when the pieces get complex!).
Books
Well, if you've been spending ANY time on this blog at ALL, you will be SHOCKED (voice dripping with sarcasm) to see the following books from the "Getting to Know" series by Mike Venezia. Seriously, I should be paid for my endorsement at this point. But alas, I am not. I just really, really like these books and think they work BEAUTIFULLY for Foundations age kids. Particularly the preschool/elementary ones, but these books are meaty enough to work on up into middle and high school; they're just easy to read. I actually like to take them to class with me when I tutor. The facts are interesting and some of the pictures are helpful to the more visual kids. They're a great supplement to the information in Classical Music for Dummies.
Sadly, there is no book on Dvorak in the "Getting to Know" series (Get on that, Mike!), but this one has gotten excellent reviews. It's  en route to me, and I'll come back and adjust my recommendation accordingly.
This is a great book (with CD included) for learning about the Orchestra. It also touches on the different musical periods, so it dovetails nicely with how we cover the Orchestra in CC.
CD's/MP3 downloads and Videos
I really like this entire series of CDs (you can also download the MP3 files). They're inexpensive, and they mix the biography in with the music of the composer in a way that makes it really easy to listen to. You can treat it like an audio book and pay rapt attention to the narrator with the biography, or it's fairly easy to just focus on the music and tune out the spoken word, if you prefer. These can be nice to have playing in the background while your children are playing or working on school work at home. You can pick up an awful lot of information (and hear a lot of classical music!) that way.
Of course, the classic way to teach children about the different instruments in the orchestra is via some version of Peter and the Wolf, composed by Prokofiev. My favorite version of this is the one narrated by Sting.
Two years ago, I discovered The Composer is Dead by Lemony Snicket, which I actually like more than Peter and the Wolf for actually explaining the instruments in the orchestra to children. It's got a lot of dry humor (much of which goes over children's heads, but adults will find amusing), and does a great job of introducing the orchestra. I'm a VERY visual person, and I've got to tell you that the book that accompanies the CD did nothing for me. I think the CD or MP3 files stand on their own just fine, but I've had pretty much no luck locating them for purchase by themselves. I'll include a link to the book here at Amazon so you can see the reviews or look at it for yourself, but I was also able to find a series of youtube videos that someone created using the book and the audio. You can access my playlist of them here, or push play below.
Games and Apps
The New York Philharmonic website has an entire area for kids that is AWESOME! Definitely check it out and explore. Here are two games from this site that you definitely won't want to miss:
Sort the musical instruments by family:  http://www.nyphilkids.org/games/frenzy/instrumentfrenzy.swf
A classic "memory" game with musical instrument images. Nice thing about this one is that the images are labeled and when you flip the cards they play, so you experience the sound of each instrument. Brilliant! http://www.nyphilkids.org/games/main.phtml?
Carnegie Hall has also created an online Safari adventure for learning about the orchestra.
At this website you must correctly answer the questions about the instrument families or your ship will be sunk! 

At this website you can listen to a sample of music and guess which instrument performed it.
This is just another good all around website. It has games and uses Benjamin Britten's Young People's Guide to the Orchestra to illustrate the sounds of the different instrument families.
This is a free iPad app for learning about the Orchestra: https://itunes.apple.com/us/app/mso-learn/id441422027?mt=8