A little background: This is our family's fourth year to participate in a Classical Conversations (CC) community. We participate in the Foundations portion of the program, which is designed for children ages 4 to about 11. The Foundations program lasts for 24 weeks each year. Each week the children cover 7 different grammar subjects (Timeline, History, Math, Science, English, Latin, and Geography), do a short (2-3 minutes) presentation, participate in one or more Science experiments and cover some area of Fine Arts.  It's a VERY busy morning!
This past week was our first week. Here are a few things from this week that might be helpful to others of you with children participating in CC.
Geography
This year, in addition to the normal geography work and review, my children will be learning to draw a "Blob" map.  A "Blob" map is one of the first steps (and easiest) in learning to actually draw the world from memory (you can read about this method in "The Core" by Leigh Bortins, the founder of the CC program).  Since we're starting this year with the Continents and Oceans, it's a good time to get started working on doing that.  We're not going for perfection here . . . it's called a "blob" map for a reason, but it's a great way to review the memory work and start learning where these things are in the world!  We're using the blob maps posted by Brandy at Half a Hundred Acre Wood, an excellent blog for all sorts of information related to CC.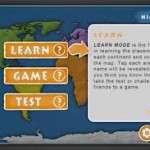 There is a VERY simple, free app out there for reviewing the Continents and Oceans.  It's great, it's simple, and it's right on point with this week's Geography grammar . . . except for one thing: it includes the Southern Ocean.  There was some discussion about this on the CC Connected Forum a few weeks ago.  Apparently, when the Foundations curriculum was created, the "Southern Ocean" had not officially been recognized by the (insert big official organization name here). It's just now being written into textbooks and maps, and may very well be included in the next edition of the Foundations guide, but we aren't teaching it this year.  You'll just need to explain that one difference to your children if you want to use this very handy app.  https://itunes.apple.com/us/app/ilearn-continents-oceans/id481545907?mt=8
Presentations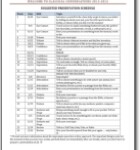 Each week, the kids do a presentation for the class.  It's really up to the parents to decide what the nature of the presentation will be, but it can be helpful to get a little guidance from the tutor, especially on those weeks where you're short on time and creativity.  Here's an example of a presentation schedule for a CC class (this particular one is for children in first and second grade, although I'm not sure that matters).
English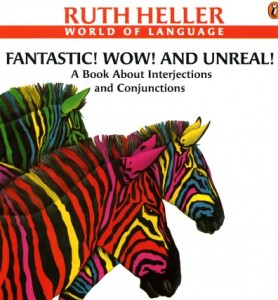 This book by Ruth Heller called "Fantastic! Wow! and Unreal! A Book About Interjections and Conjunctions looks like an excellent way to review some of the terms (and expand on them) that were covered this week.
General Review
At our house, the Blob map I mentioned above is going into the school binder that my kids start most of their school days with so they can review it each day. Some folks would call this a "Breakfast Binder." Last year, we called it our "Calendar Notebook" because that's all that was included. This year we've expanded it to include other things. Another CC blogger has created some great copy worksheets to use for review.  I'm going to try including those in our School Binder as well, to help my kiddos review their memory work on their own each day.  This link is to where she talks about them and how she uses them, but if you'll click on the "Cycle 2 Resources" link at the top of the page, it will take you to a place to download them.
http://aclassicaltwist.blogspot.com/2013/04/cc-cycle-1-week-23-review-sheet.html
That's it for week 1!