We shot off rockets this week in our Classical Conversations group this week.  It was GREAT fun, and the expressions on the kids' faces were priceless, but I have no pictures. It's really hard to tutor and take pictures at the same time, I've decided. And yesterday, I was too busy getting a second shower of the day from the water bottle rocket that prematurely went off right beside me, anyway. Sure, it was 30 degrees outside, but it was 100 degrees in my classroom, so really the kids did me a favor. And I think they thought that was as fun and funny as actually launching the rocket itself.  Makes for good CC memories.
Review Games
The kiddos in my class love to play Firecracker (see Printables page to print your own cards), and beg for it every week. They don't seem to think it's getting old at all (which goes to show you that you don't have to have a million review games in your arsenal, just a few good ones), but this week I wanted to shake things up a little. So, we did two other simple things to review:
Timeline Freeze Dance: Easy, easy easy! Just play the full version of the Timeline song starting wherever you like and for as long as you like. The kids free-form dance until you hit pause and then have to sing the next item on the Timeline. It's simple, it's energetic, and it gives them a chance to break the song up in ways other than weekly. It's a really fun way to review!
Nerf Gun Target: I've used a nerf gun a few different ways in class. If you've got rowdy boys who love nerf guns, they'll love you for bringing one . . . but you'll want a good gameplan for making it work well for review. Yesterday, we just took turn as teams answering questions, and then one person from each team got to stand up at the front of the classroom (we tweaked our shooting spot as we went) and shoot at a big target I'd drawn on the board to earn the points for their team. We didn't have a lot of time, so we asked enough review questions to allow everyone a chance to shoot. Again, easy prep, easy set up, and fun for the class. My children at home love this game, too. We draw the target on a storm door, and then have some fun! You can also use this as a way to choose your question topic, by assigning each circle of the target with a different topic. Everything outside of the target can be "Timeline" which means that a missed shot isn't a wasted shot and things can move along pretty quickly.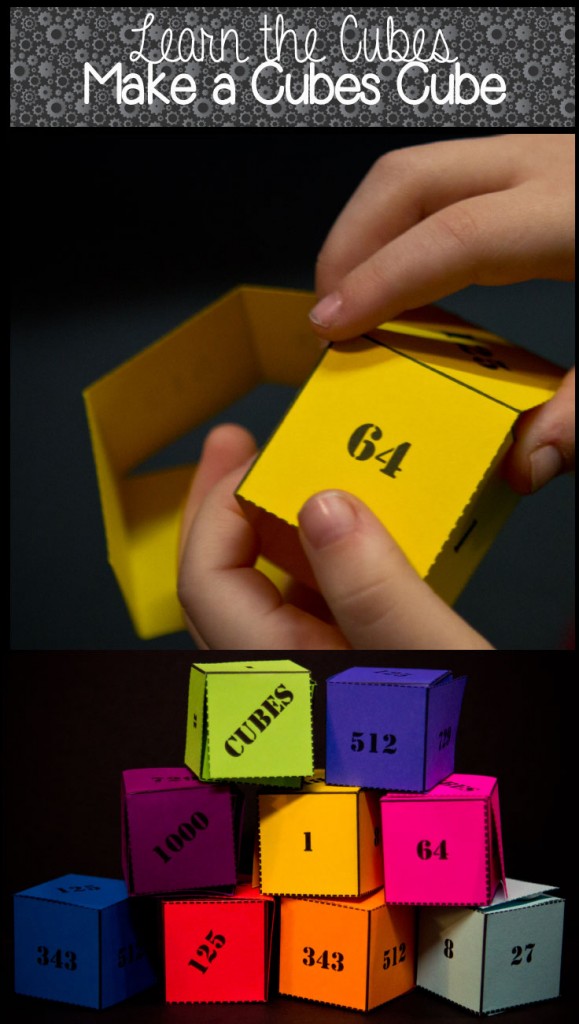 Math
I am SO excited about sharing with you the the little tool I made for learning the cubes! Don't tell the kiddos, but I think learning the cubes is BORING!! It might be my least favorite week of math. And, I think they're hard to remember, since the numbers get big so fast and have no discernable pattern. So . . . I made a little cube of cubes. Smaller kiddos (abecedarians) will need assistance from their parents, but my five year-old has been able to handle it at home beautifully, and he LOVES it! He has been going over and over his cubes while folding and refolding his "Cubes Cube." I created two files. One is in color (for printing on white card stock or plain paper) and one is black and white (for printing on colored card stock). You can find them both on the "Free Printables" page.
A couple of quick tips:
1) Since it's a square, it's easy to cut the outside of the figure out with a paper cutter. If you want to make them for multiple children, that's the easiest route to go (and you can cut multiple at a time). Cutting out the small center rectangle with scissors doesn't take very long.
2) Pre-folding is the key to making this easy and do-able for children. Crisp, nice folds make for a better cube.
English
This is one of my favorite things that I stumbled upon this week. My children are crazy for jokes and will love this! It really is just a joke book that uses indefinite pronouns. It's a short book (for Kindle, cost is $0.99), and after finding it, I realized that someone has made it into a little video of it on YouTube (no audio, just slides of the pages of the book):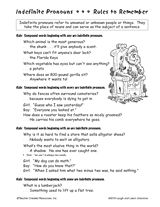 http://www.youtube.com/watch?v=KxEteThaTAA
And since I thought the indefinite pronoun jokes were such a good idea, I went looking for more and found this great printable. The jokes are perfect for the youngest of kids and the grammar lesson would be good for older kids (of all ages).
Here's another little video on indefinite pronouns. It's a little slow, but the information is good.
http://www.youtube.com/watch?v=7loCU95–Lo
History
I'm giving my husband ALL the credit for finding this FABULOUS website! You will definitely want to check it out!
It's all about the Palace of Versailles, and has amazing fly through videos, and a really well-done video game about building the palace. Kids can get familiar with the architecture style, statistics about what it took to build the palace, the architects, etc. It is extremely impressive. While Versailles fits most appropriately with our history grammar about Louis XIV (Week 9), it did play a role in the French Revolution  discussed in this week's history sentence (and you can certainly understand why starving people might get a little upset that the people taxing them were living this opulent lifestyle once you've seen Versailles!). There's good history recap of Versaille at this website.
In other history news, this probably goes without saying, but I'll say it anyway: Ummm  . . this week's history sentence is about the guillotine. The guillotine was invented during the French revolution (ironically, because it was considered a humane form of execution) and became the symbol of the revolution. During this period of history, up to 40,000 people were killed. And 16,594 of those deaths were by guillotine. It's crazy. It's fascinating. And, it's gory. Really, really gory. So, while I'm not into gore and nastiness, and there is no blood in any of the videos I'm about to post, it's hard to avoid things like cartoon heads rolling with this topic. If you've got sensitive children (or are sensitive yourself) you'll want to preview these.
Lots of cartoon heads rolling in this one, but no blood.  Depends on how sensitive you and your children are. Humor is a little subtle for some younger children, but they'll probably pick up the gist of the story.
https://www.youtube.com/watch?v=otnADq4Y0-A
Pretty simple video with a good overview of the French Revolution:
https://www.youtube.com/watch?v=mrOhwu2V-LE
This is an EXCELLENT video, longer than the others, and targeted at middle school or high school students:
https://www.youtube.com/watch?v=lTTvKwCylFY
There are some good books for Foundations age kiddos for this period. Yay! Unfortunately most of them are out of print. Boo! I'm going to go ahead and show them here, in case you can find them used or at your local library.
The following books are historical fiction.
The two covers below are for the same book.  Goes to show you what a change in cover art can do for (or to) a book. The first cover is no longer in print. Regardless, the book gets EXCELLENT reviews for giving tween readers (9-12) a sense of Marie Antoinette's younger years.
Here's one more book aimed at tweens that looks great. This is by G.A. Henty, so it's an older book (100+ years) with an updated cover. It probably contains some older language, but like most Henty books, is very well thought of. It's also available on Kindle.
Science
They might be Giants – A Shooting Star  video:
http://www.youtube.com/watch?v=JqBChyNyLhU
Here are some great books on this week's science grammar:
Geography
I can't help it. This is one of the catchiest song by They Might Be Giants and I could NOT get it our of my head during class! So, I leave you with the official Istanbul (not Constantinople) video . . . which I will not claim is overly educational. Just likely to get stuck in your head! (Note: This video channel is on auto play and will play another They Might Be Giants video went this one is over.)
This post linked up at: