Time is flying! It's week 20 and we'll be wrapping up this year of CC Foundations before we know it!
Science
Here's a fun little video with information about the second law of thermodynamics:
Science Project
I found a number of videos this week that complement our bridge-building project nicely. These two from MIT are my favorites:
Part 1-
Part 2 –
Here are two others that are also good:
There are also several books that work well with this subject: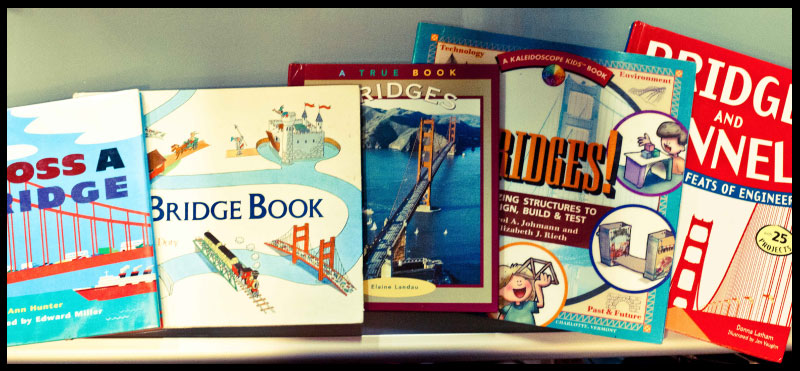 Cross a Bridge has simple, colorful illustrations of different types of bridges and contains a little history and fun facts about famous existing bridges, too. It is excellent for preschool and very early elementary (in CC speak, Abecedarians).
The Bridge Book is great for all elementary-aged children. It contains information about the history of bridges as well as about their basic structure. My five year old really enjoyed it! It's only available used at Amazon (I've had GREAT luck picking up used books at Amazon for a few cents plus $3.99 shipping. We don't mind used books around here in the least.), and our library had a copy of it. It was a great combination of informative and entertaining.
Bridges! is more elaborate and intended for ages 7-14. It contains history, facts about different types of bridges, and projects designed to help you test out different bridge types yourself. it's a cute book and most of the projects don't involve terribly complicated resources (poster board, paper clips, glue, etc.). I know it can be hard to fit in more during the week, but I've got my eye on a few extra projects for us to try now or during week 21.
Bridges and Tunnels is packed with even more history, informative facts, and activities. It's intended for ages 9-12. There are some really neat projects in this one, but it's definitely a little more information than my 5 and 7 year old will want to sit down and digest for pleasure. The illustrations and page layouts are very approachable for the age it's aimed at, though, so if you have an older elementary child or a middle-schooler, this book would be awesome!
And, finally, here's a little bridge building app that's free and available on for Android and iPhone/iPad. We downloaded this some time ago and my son enjoyed it, but moved on and I deleted it. I downloaded it again and he's been begging to play it all day. He was thrilled when I gave him a few minutes to play on it earlier and he built a bridge (a suspension bridge) that was strong enough to allow trucks to use it. This app gets kids familiar with some of the decision making that goes into building a bridge, even if it can't be directly applied to the straw or popsicle bridge they'll be building at CC.
Fine Arts – Orchestra
Okay, okay, I know that I already recommended this book in my post specifically about the Orchestra, but it's just TOO GOOD to not mention it one more time. It ties Beethoven into ALL SORTS of timeline and history sentence items. It has great facts about Beethovens 5th Symphony (the one we're listening to in Week 20). I really just can't recommend it enough. A mom asked me at lunch last week (when I was RAVING about this book and the whole series) if her 6th grader would enjoy it as much as my 1st and 2nd graders do and I emphatically said "YES!" For a middle school student it would just be a much easier and faster read, but they'd still enjoy the humor and absorb all the great meat that the book contains. I mean, I LOVE these books myself and I'm . . . well, let's not discuss my age. Let's just leave it at – THESE BOOKS ARE AWESOME!
There is a video (slightly under an hour) called "Beethoven Lives Upstairs" that is supposed to be an accurate and entertaining account of Beethoven's life. I haven't yet watched it, but Common Sense Media recommends it for ages 6 and up.  Our library has a copy of it in circulation, or you can purchase and stream it at Amazon (and Amazon has the DVD version, as well).
There's also a short animated biography about Beethoven (by Muffin Stories), aimed at younger children, available here-
A friend and fellow CC tutor pointed me in the direction of these two videos. The first is a satire of Beethoven's 5th symphony. As an adult, it's hysterical! Some of it will go over younger children's heads, but it's still QUITE funny!
http://www.youtube.com/watch?v=MzXoVo16pTg
If you're tutoring and need some more ideas about how to handle teaching the Orchestra to your class, you can check out this post at Solagratiamom.com. It's from last year, but the same basic principles apply.
On an ALMOST totally unrelated note, I pass along the following to all those of you whose children are obsessed with the soundtrack from the Frozen movie. These guys have mixed the "Let it Go" music with Vivaldi's "Winter" Violin Concerto (part of "The Four Seasons" work that he is most renowned for). If you want to expose your children to classical music mixed with something they already love, this may be the perfect mix. There are no vocals, but my guess is that your children can provide those, should they care to, on their own.
History
Yeeesh. Trying to to find books or videos about the Vietnam war that are appropriate for early elementary age students was just impossible. For me, at least. Did anyone out there find any good resources?
There is some information in the Crash Course History video on the Cold War that I posted last week. It transitions directly from the Korean War to the Vietnam War . . . but it's not really geared toward our Foundations-aged kiddos.
I saw this blog post about drawing pictures to review and thought, "Why have I never thought of that?????" Simple, straightforward, and great for visual learners (I definitely have one of those!). Love these brilliant CC moms out there!
Review Games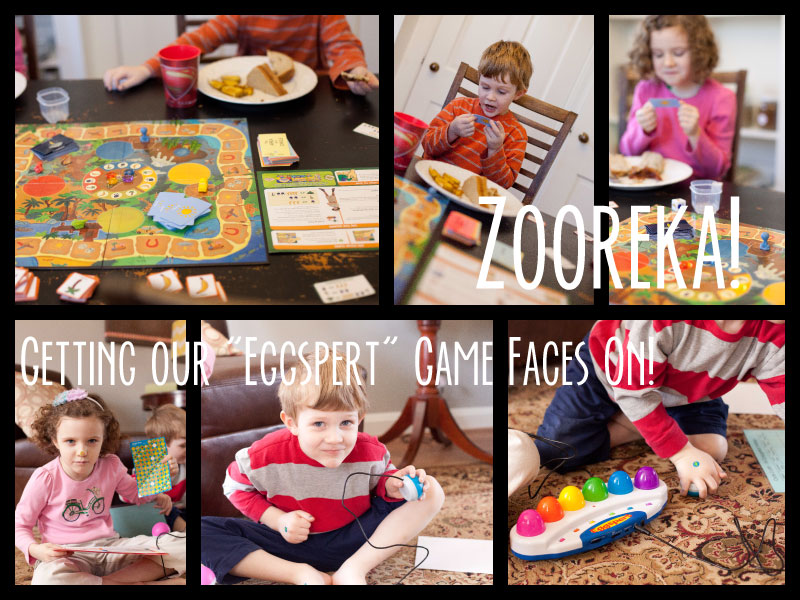 This week, we reviewed CC at lunch one day using our Cranium Zooreka game. Like most of our efforts at review, it was pretty simple – take a turn, answer a CC question. My kiddos have realized they can usually talk me into a game in the middle of the school day as long as they propose we do CC review in some form along with it. This game took us while to play this time (we actually walked away and came back to it later in the day). We got in a LOT of review!
A few weeks ago, I ordered an Eggspert game to use at home and for review in the classroom. We've only used it once in class and a couple of times at home, but my kiddos have really enjoyed it! The only downside for the classroom is that there are only 6 controllers, so you do have to play in teams, or nominate a child or two to be the "Quiz Show Hosts" if you have a class of more than 6 children. But, it's fun, and since there's a timer, you can move through questions pretty quickly. Again, we got a LOT of review in while using it and the kids had a great time!
This post is linked to: