Whew! We got to spend a really great weekend with my parents, visited a wonderful farm, and took a trip to a nearby aquarium in route home. We rushed back into town on Monday night and then spent quite a bit of time preparing my husband to teach three new (to him) online high school level classes on Tuesday, so this is the least attention that CC has gotten around here in a long time! This post might turn out to be short . . . hopefully it will be sweet, or at least slightly helpful.
Math
It's around this time (skip counting 11's-15's, squares and cubes) in the math grammar that I become VERY glad that CC repeats the same math each year, and this is when I start looking for ways to creatively get my children to work on their skip counting review without my having to drill it with them over and over.  This week, I'll be putting numbers on our stairs. The 11's will be on the risers and I'll put the 12's on the actual stair, just over to the side so it's fairly easy to NOT step on it if you choose to do so (I'm sure my son will choose TO step on it EVERY time no matter WHERE I put the card with the number). So, they'll count 11's going up and 12's coming down.  This was VERY successful last year, and I would often hear my (then) 4 year-old working on the 11's when I sent him upstairs for something. He just really couldn't help himself when the numbers were right in front of him!
Timeline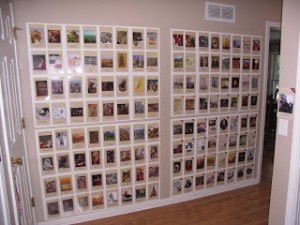 Last year, I taped up every single timeline card to the walls around our dining room table. From an interior design perspective we call that the "School" look.  You're not going to see that mentioned in any magazine and it's definitely NOT the most attractive look for your home.  Buuuuutttt, it was incredibly effective.  The kids reviewed the timeline on their own about half of the times they sat down at the table, and it was a natural source of conversation anytime we were gathered there together. Our dining room is pretty small (read: tiny!) and we ran out of room on the walls WAY before we ran out of timeline cards. My husband thought it was so effective that he suggested I remove a framed wall gallery we have hanging on one wall and use it for more timeline cards, but I just couldn't bring myself to do it.  I probably should have.  Instead, I hung the cards around the ceiling area in our "school" room (timeline crown molding, if you will).  It worked, but not nearly as well. I really needed to BE there to make the review happen and so we just didn't do it as often and the kids didn't enjoy it as much.  This year, we're going to go back and use the dining room walls again. We've actually done some rearranging and have more wall space. Also, I don't plan to start hanging the timeline from the very beginning because both of my children seem to be really comfortable with the first 5 or 6 weeks.  But starting on week 6 or 7, I plan to start decorating with timeline cards again.  A little painter's tape does a GREAT job of holding the cards (mine are even in plastic sleeves, so they're even heavier) up.  There's a post here, by another CC mom, about how she mounted hers using the trifold presentation boards.  I may have to go that route.  Hers look MUCH neater than mine did last year!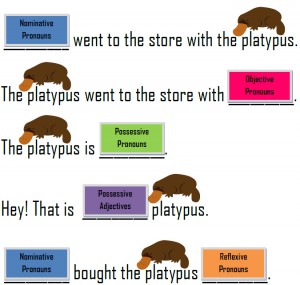 English
The more time we've spent working on reviewing the pronoun lists from Weeks 4 and 5, the more convinced I am that my children are going to struggle with knowing which list of pronouns or adjectives to recite when asked. Or, maybe it's just ME that's already struggling. Regardless, I've expanded the File Folder game I included in last week's post to include a series of sentence hints with our "Pronoun Platypus" to help us in our review. I'll also be changing our hand motions somewhat to help us remember which are which.
History
There is an EXCELLENT series of books and videos by Mike Venezia on famous artists, presidents, and scientists (including some related to recent presentations in our class – The Wright Brothers and Seurat, and one on Norman Rockwell, who has an upcoming exhibit at the Frist Center). They make these individuals very approachable.  Later this year, I'll be recommending the Rembrandt book and video when we cover him in Fine Arts as well as some of the other books in this series on artists and composers we'll be discussing, but right now, I'll suggest the books and videos about da Vinci and Michelangelo.  Many of these books and videos are available at the local library, or via the Getting To Know website, or (of course) via Amazon.
There are some really wonderful audio CDs by Jim Weiss (he narrates the more recent versions of Story of the World, if you're familiar with those) that touch on the other individuals from the Renaissance Period – Copernicus and Shakespeare.  We have nearly a dozen of his CDs and I can't say enough good things about them.  My daughter, in particular loves them and listens to one nearly every night and has for several years.  I'd be willing to guess that she's listened to the one that discusses Copernicus a hundred times.  The Shakespeare one listed below is a story version of two of his plays adapted for children, not a history of the man himself. They're even available from Amazon via mp3 (click on the images below) if you'd like to order and download them instead of waiting for the actual CD to arrive.
Geography
There is a review game for weeks 2-6 at PurposeGames.Com. If your children have enjoyed the review games on the Purpose Games website when they've covered just a week or two of information, they may enjoy the challenge of covering most of what we've learned so far this year!
General Review
My children like to play all the same games at home to review that we play in class, plus a few others.  On Tuesday, during lunch, we reviewed all the information to date playing a super simple game of hangman. Our rules: Answer a question correctly with virtually no help and get a point (my children REALLY like to keep score). Answer a question incorrectly (or with significant help) and the poor hangman gets another body part.  My daughter's sweet Bible class teacher told me a couple of week's ago that they'd played hangman in class and she'd never heard of it, so we're working on remedying the "gap" in her education now . . . and she loves it!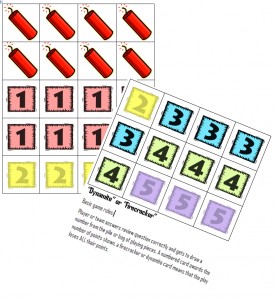 Another game my children LOVE, and that has been very popular in class, is the game of Firecracker (it can also be called "Dynamite"). It can be played by individuals or teams, and you can choose to allow cards to be drawn only for correct answers or for each turn regardless of whether or not the question is answered correctly.  Whatever works for you. You can hand-write your own game pieces, or you can click on the image to the left to download a version you can print. This is a GREAT game to take to a restaurant along with your memory flash cards and play while you're waiting for dinner.  We had a very effective boys vs. girls session in our favorite Mexican restaurant one day last week!
A little background: This is our family's fourth year to participate in a Classical Conversations (CC) community. We participate in the Foundations portion of the program, which is designed for children ages 4 to about 11. The Foundations program lasts for 24 weeks each year. Each week the children cover 7 different grammar subjects (Timeline, History, Math, Science, English, Latin, and Geography), do a short (2-3 minutes) presentation, participate in one or more Science experiments and cover some area of Fine Arts.  It's a VERY busy morning!