We're back from our Fall Break and going strong. Or rather, we're working our way up to "going strong." It takes a week or so to get back in the swing of things. But the cycle of CC waits for no man, so we'd better get our act together. The break for the winter holidays will be quickly upon us.
Math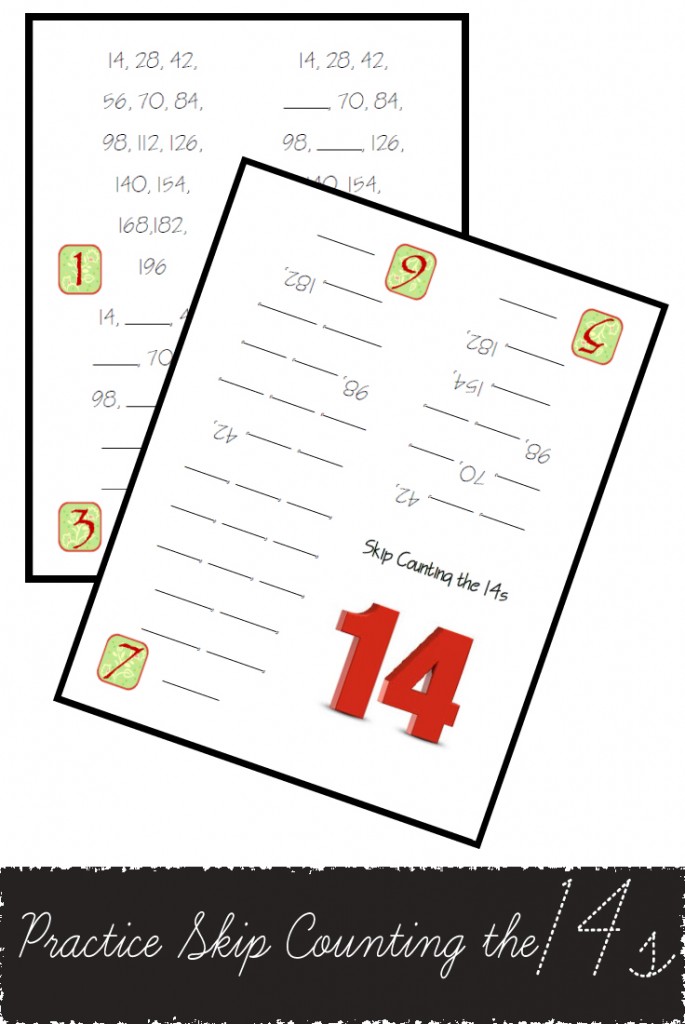 I created a little skip counting "booklet" that we used in class. You are welcome to download it by clicking on the image to the right. The idea is that the child works their way from the "1" block, which has the most information to the "7" block, which they must complete from memory. After completing 1-4 on the back side of the sheet, fold the sheet to make a booklet.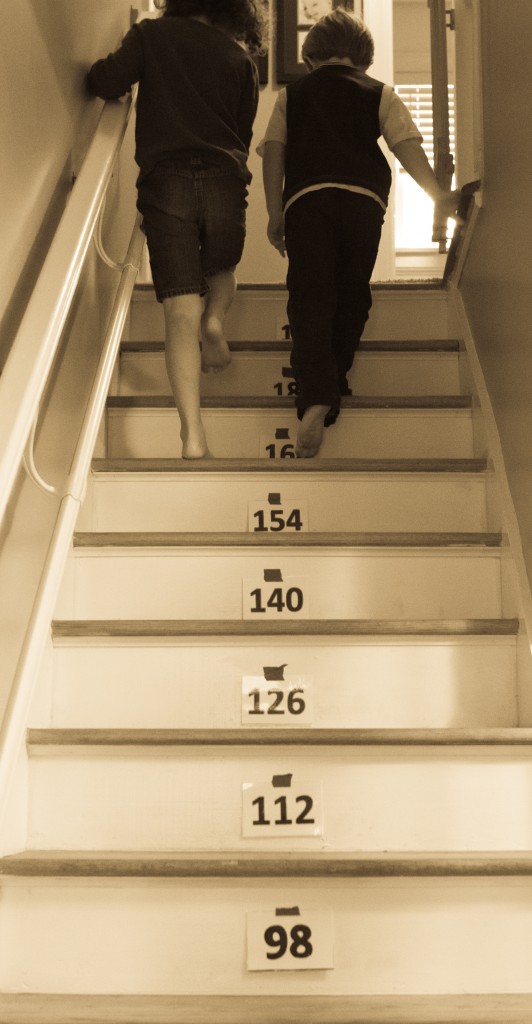 This also means that the child has been able to see plenty of "hints" as they go, but by the time they flip the booklet over to complete the "7" block, they're really just going entirely from memory. 7 is also the number of times that CC recommends you repeat information in order to store it in your child's short-term memory, so this works out well in that regard, too!
We've also added the 14s to our stairs. The kids were singing them this morning together (and even trying them backwards) as they went up and down.
English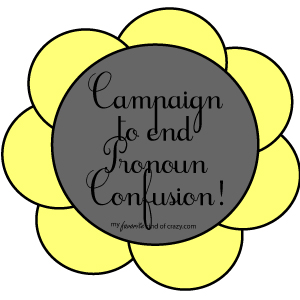 Man! Getting all these pronoun lists straight in our heads has been a BEAR! Here's a reminder that you are welcome to download the Pronoun Platypus file folder game I posted a couple of weeks ago. In addition, we're going to try something a little bit different and come up with a "trigger" or reminder for each one.  Here's what I'm thinking:
Nominative Pronouns: "I nominate you . . . "
Objective Pronouns: "Bring me the object" or "You bring me the object" (if the later doesn't cause confusion about the pronoun order.)
Possessive Pronouns: "Slow down, clown! The S's on those possessive pronouns are ALL mine!" (note: all the possessive pronouns end with an "s" except for "mine")
Possessive Adjectives: "Do you want my bandage to go on that possessive adjective to cover up where it's missing its S?" (note: none of the possessive adjectives have an "s" except for "its")
Reflexive Pronouns: "I love to look at this reflection of myself in the mirror!"
I don't know. Maybe that helps. Maybe it doesn't. If you've got better (or just different) suggestions, PLEASE leave them in the comments. I would love to hear them!!
Science Grammar
There is a printable at this website, which is sponsored in part by NASA, that shows the parts of the sun.
H

istory
Several of the people in our history sentences are included in the Animated Hero Classics series, some of which can be found on YouTube:
http://www.youtube.com/playlist?list=PL6CD6F24C06201BA7
There are a TON of books out there on most of these explorers, but here are a couple of good ones:
We're adding this one to our book collection. It covers a handful of the explorers discussed in our History sentences and Timeline. It's target audience is older than my 5 and 7 year-old, but I figure we'll be pulling it out in years to come, as well.
If you're looking for something a little lighter, these are not about the explorers in this week's history sentence, but they are easier (and often amusing) reads:
And then there's this one that is actually on topic with this week's history sentence:
And on YouTube, there are a couple of good videos to supplement our History sentence.
This one does a nice overview of the Age European Exploration and shows the Treaty of Tordesillas (although it doesn't name it). At the end, it talks about current exploration in Antarctica and Mars (you can stop it when it gets to 3:00 if you don't want to hear about the possibility of Life on Mars).
This video is about Magellan's voyage (through the Straight of Magellan) and is a nice overview:
Tin Whistle (Music Theory)
Here is an adorable video that is an ode to the treble clef:
The group that did the video above has put out a whole series of videos that are wonderful tie-ins with our Tin Whistle study.  If you want to see more of them, they're pinned on my Pinterest Board for Tin Whistle.
There are also a couple of apps that are handy to reinforce the names of the notes:
One is called Note Brainer. It's free. Free is good.
https://itunes.apple.com/us/app/notebrainer/id310695461?mt=8
This is a cute game called "Note Squish." Think "Whackamole" for music theory.
https://itunes.apple.com/us/app/note-squish/id381536270?mt=8
Another one is called Piano Monkey. We've had it for a year or so because our piano teacher recommended it. It's a pretty basic app, but it is great for teaching note recognition on the staff and on the piano.
https://itunes.apple.com/us/app/piano-monkey/id357407584
A little background: This is our family's fourth year to participate in a Classical Conversations (CC) community. We participate in the Foundations portion of the program, which is designed for children ages 4 to about 11. The Foundations program lasts for 24 weeks each year. Each week the children cover 7 different grammar subjects (Timeline, History, Math, Science, English, Latin, and Geography), do a short (2-3 minutes) presentation, participate in one or more Science experiments and cover some area of Fine Arts.  It's a VERY busy morning!
This post is linked to:

Hey, I am actually enjoying this blogging thing, but sometimes it feels like I'm talking to myself. If there's anybody out there, would you mind hitting one of these buttons so I'll know? And if you've got some ideas of your own you think would be helpful in our CC review, please share them in the comments below!