This week our "Science Project" was Facility Clean-up! I loved the opportunity to do a little something for our hosting church. They are wonderful and we SO appreciate their willingness to host our Classical Conversations (CC) group each week. Just to keep it real here, when I asked my son after the day was over what his favorite and least favorite parts of his CC day had been, "cleaning up his classroom" fell into the "least favorite" category. We need to do some work on the idea of serving others joyfully, obviously. All the children in my class were wonderfully helpful, though, and more than willing to pitch in and get some things done. Maybe they still went home and told their mothers it was their least favorite part of the day, too . . . or maybe it was just my ornery rascal. Sometimes he likes to say things just to see what my reaction is going to be. Anyone else got one of those?
Math
My kiddos enjoyed last week's Skip Counting Maze, so I went ahead and created one for this week as well. You can download it by clicking on the image to the right.

My favorite way to introduce the squares in class (and I'll probably go over this again at home, where we have more time) is visually. I realize that the objective of our class time during CC is not to teach (this is SUCH a difficult thing to retrain your brain about), but to introduce the material and drill it. However, when it comes to the squares, I just think it helps children to see it, even if the younger ones don't really understand exactly what  they're seeing.  So, I like the worksheets that show the grid and how the square that has 2 sides that are each 1 space is one square in total, the square that has 2 sides that are each 2 spaces each is made up of 4 squares in total, etc. (there's one example of this out on CC Connected called "wk 10- squares cut-n-paste.pdf"). Or, another thing that I like to do is use unifix cubes to illustrate how they work. In a CC class, you only have time to really illustrate about the the first 5 like this, but I do think that it helps introduce the mathematical concept to the children in a way that also holds their attention while you teach them the skip counting song. You can also take the unifix cubes back in when we're learning the "Area of a Square" on Week 17 to reinforce the idea and link the two pieces of grammar together.
While doing a little research to see if there were any newer or better ways under the sun to teach this concept (none that I could find), I did find this interesting webpage showing the pattern in the "ones" place of squares, which is something I'd never realized before (but you all probably have known this for years!).  I love it when trying to teach my children teaches me something new, too. One of the great things about homeschooling.
http://www.wikihow.com/Memorize-the-Perfect-Squares-in-Math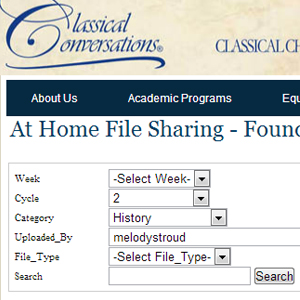 History
If you're looking for a good way to review the History sentences thus far this year, and you have access to CC Connected (C3), I can tell you one thing we're going to do this week at our house.  Melody Stroud has created cards for each of the history sentences for the first 12 weeks of the year. There are images that accompany them. We'll be taking all of these cards, cutting them apart and then shuffling them and my children will work on finding the ones that go together and getting the sentences in the right order.  Just in case you are on C3, but have trouble finding things (you're not alone!), the image to the right shows you how to set your search to pull up just the 12 applicable files.
In my hunt for reading related to this week's grammar, I just couldn't find a whole lot.  Here are two that I haven't read personally, but look potentially good:
This one is a novel, but gets good reviews for historical information, and looks best for a "tween." You can peruse the reviews yourself by clicking on the image:
These Eyewitness books are usually good for a broad overview.  This particular one is not available at our local library, so I haven't had a chance to take a look at it to see what kind of information it provides and how well it fits with our history grammar.
NOW, this book looks GREAT, and I've ordered it, because it's also not available at our library. I'll come back and give you a review here after we've actually received it!
This is unrelated to this week's history grammar, but there are two things that we've enjoyed very much the week around here that I don't think I've recommended before and thought you might want to check out.
The first is a book called "Hooray for Inventors!" by Marcia Williams.  I like Marcia Williams' books very much and my daughter ADORES them, since they're typically written in a comic strip-style, and she is currently obsessed with comic books! I didn't realize that this particular book would fit well with our CC history grammar, but it has. The book is dedicated to Leonardo Da Vinci (Cycle 2 Week 6), so the first couple of pages show some of his more forward-thinking inventions, the ones that didn't come to pass until hundreds of years after he drew them – the helicopter, the parachute, the hang glider, etc. In addition to Leonardo Da Vinci, the book also has a section on Gutenberg (Week 13 of Timeline) and Watt's Steam Engine (Week 13 of History in Cycle 2). And of course, it has information on a lot of other inventors, as well. It's a great little book!
And the second thing is this little short film from Pixar called "Your Friend the Rat." I pinned this on Pinterest quite some time ago because I saw it elsewhere, but I wasn't overly confident that it would be worth it. What I've since discovered is that it's about 10 minutes long, terribly entertaining, and really contains a decent amount of information – both historical and scientific. Of course, it's well done since it's from Pixar and I was pleasantly surprised by the information. It contained a good (and not overly scary or gory . . . my little boy has a very low tolerance for both, even the animated kind) description of the Plague and the role of rats and fleas. It gives the scientific names (great reinforcement of Cycle 1 Week 1 Science) of the rats it discusses, and even explains that human anatomy and rat anatomy are very similar (hello, Cycle 3 Science). I just wanted to give it a little shout out, since you may have been like me and been skeptical. It's only $2.99 from Amazon to download, so not a bad deal at all. There's a description of the overall plot at Wikipedia, if you'd like to read a little more about it.
Science Grammar
Our public library recently started creating Curriculum Kits. They're designed for teachers in the public school system doing unit studies in their classroom, but anyone can check them out. I just happened to stumble onto a couple while looking for books relating to our CC topics a month or more ago. There aren't many curriculum kits and there was a waiting list, so I made the request and have been patiently waiting. When I stopped by the library early this week, two of the librarians stopped me to tell me that I had a HUGE box of books and they didn't know how I was going to get them to my car! It's such a new thing that the librarians at our branch had never seen one of these kits before either! And they were right – it's a HUGE box of books and it was HEAVY carrying it to my car. But look at all the great stuff inside of this one: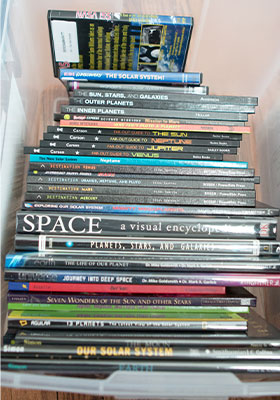 Books, books, and more books! All about Space and the Solar System. I'm excited, I'm thrilled, I'm overwhelmed, I'm inundated, and I'm very, very concerned that we're going to get some of these books mixed up with all the rest of the library books we have around here. The kids have been forbidden to remove a single item without requesting to do so first! Really, though, it has saved me a LOT of time searching for books on topics that tie in with our Science grammar.
Our favorites from this treasure chest so far have been:
Both books are full of GREAT photos or illustrations and TRUCKLOADS of good information. The "Our Sun" book not only talks about the parts of the sun, but mentions Copernicus (from Cycle 2, Week 6's history grammar), the tilt of the earth's axis and how it affects seasons (this was discussed in the Science Experiment in Cycle 1, Week 13) , and the role of the Sun in the Water Cycle (Cycle 2, Week 4). There are no reviews on Amazon (yet! I need to write one!), so I'm not sure I would have gone looking for it if it hadn't been included in this curriculum kit. It's a real winner, especially for a CC family, in my opinion. Look for it!
Here are a few more books that look like they'd also dovetail nicely with our CC grammar this week. These weren't included in our kit, but they're either by authors or part of a series that I usually think does a great job.
And finally, there were three videos included in our Space Curriculum kit. We haven't had a chance to watch them, so I can't say whether or not they're worth tracking down, but I know it's nice sometimes to have a different kind of media to use, so I'll list them here in case you want to check them out for your family:
NASA ISS: A Tour of the International Space Station (I can't find this DVD anywhere online, but I'm wondering if it's the same video that's out on YouTube here. We watched it a year or so ago and it was great! I highly recommend if if you have children interested in space. As an adult, I found it very interesting, as well.)

The NASA website itself has tons of information out there. If you have children for whom space is very interesting, it's well worth checking out!
See you next week!
This post is linked to: