So . . . this will, under absolutely no circumstances, become a home decor blog. Why? Because that is not my gift. I enjoy well appointed homes, and on occasion I do something around mine that I think is almost not embarrassing, but it's only on occasion and only ALMOST not embarrassing.
Fall, though, I LOVE! And, honestly, I'm not sure you can really go wrong with Fall decor in general.  I also really, really enjoy fun Halloween decor. Halloween isn't my favorite holiday, but I do truly enjoy the festive feeling of dressing up, and, especially in our current neighborhood, I get very excited about the community spirit of the night itself. We are SO fortunate to live somewhere that family and friends gather together around our neighborhood and enjoy each other's company on that night. Several of our neighbors host hayrides through the neighborhood, s'mores roasting in backyards abounds, and we've even been known to set up hay bales and a big screen and show "It's the Great Pumpkin, Charlie Brown" for our children and their friends after we get back from Trick or Treating. Honestly, I just love it! I don't even mind the "Big Kids" that come looking for candy. After all, you can't really blame a kid who just wants to hang on to something fun from childhood, can you? Don't we really all want to do that?
Since I know that Halloween can be a controversial topic among Christians, I thought I'd post this link to the What's in the Bible blog. What's in the Bible, in case you aren't familiar with it, is the latest venture of Phil Vischer, the creator of Veggie Tales.  I very much enjoyed the balance in this particular post on the topic of Halloween.
NOW, back to my two favorite Halloween decorating items from this year!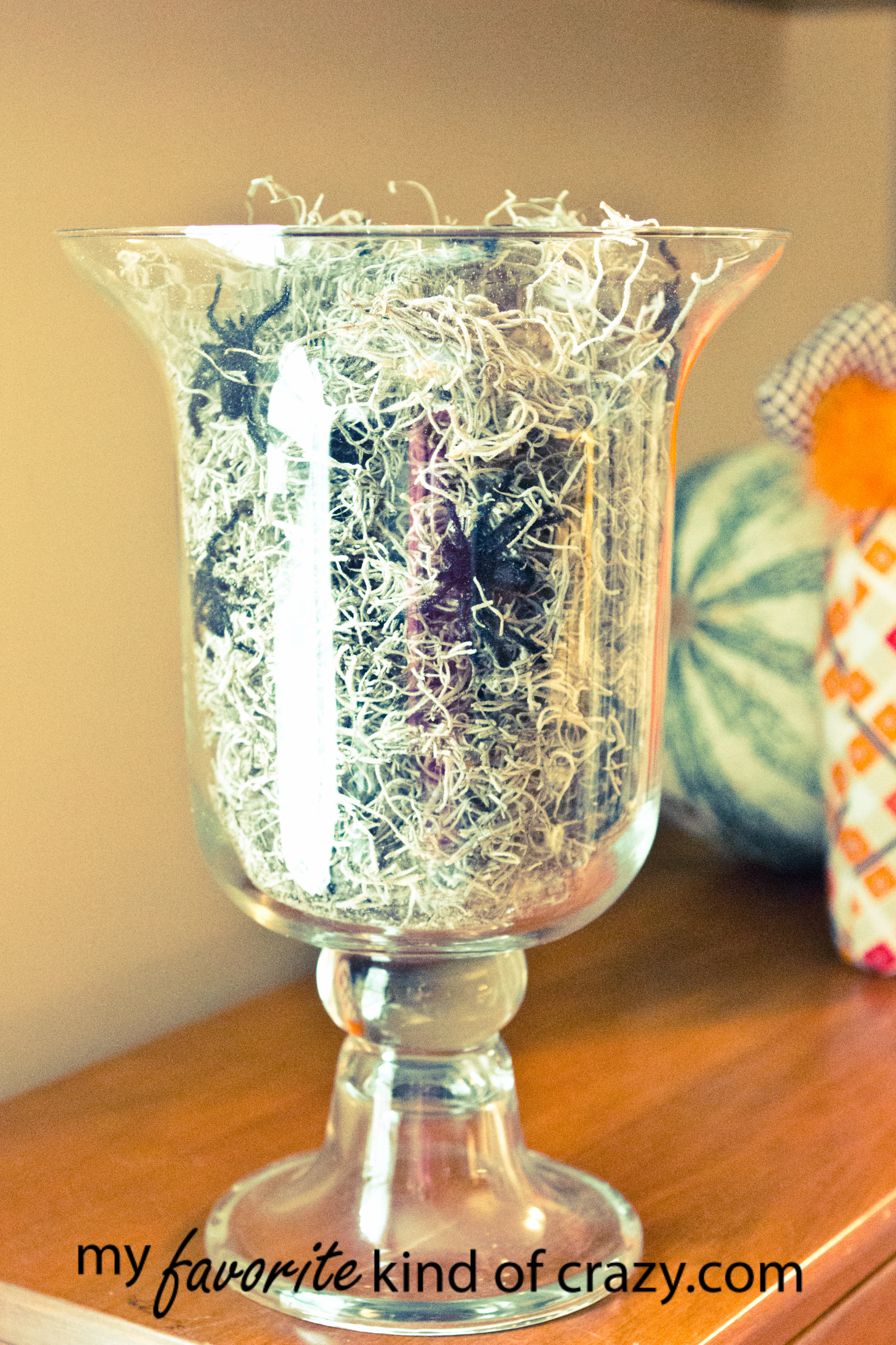 FIRST, the EASIEST of all . . .
What you need –
Fake spiders (mine came from the clearance rack at Pier 1 last year)
Spanish Moss
An empty glass jar
Voila!
LAST . . . MY FAVORITE!
I love this, because it combines our family's love of reading with decorating for Halloween.  A couple of years ago, we checked out this absolutely charming book from the local library –
It is just lovely. It was the New York Times Best Illustrated Children's Book of 2008, it's easy to see why. It only uses three colors and the lino-cut art is just simple and beautiful.  The story is charming, too! A girl (and her cat) move to a new house. She discovers that it's full of ghosts. But, surprise, she's a witch! So she catches them all, washes them in the washing machine and then puts them all to good use as curtains, table cloths, and bed linens.  It's just absolutely charming on SO many levels. When we finished reading it for the first time, I looked at my daughter and said, "We should cut this up and put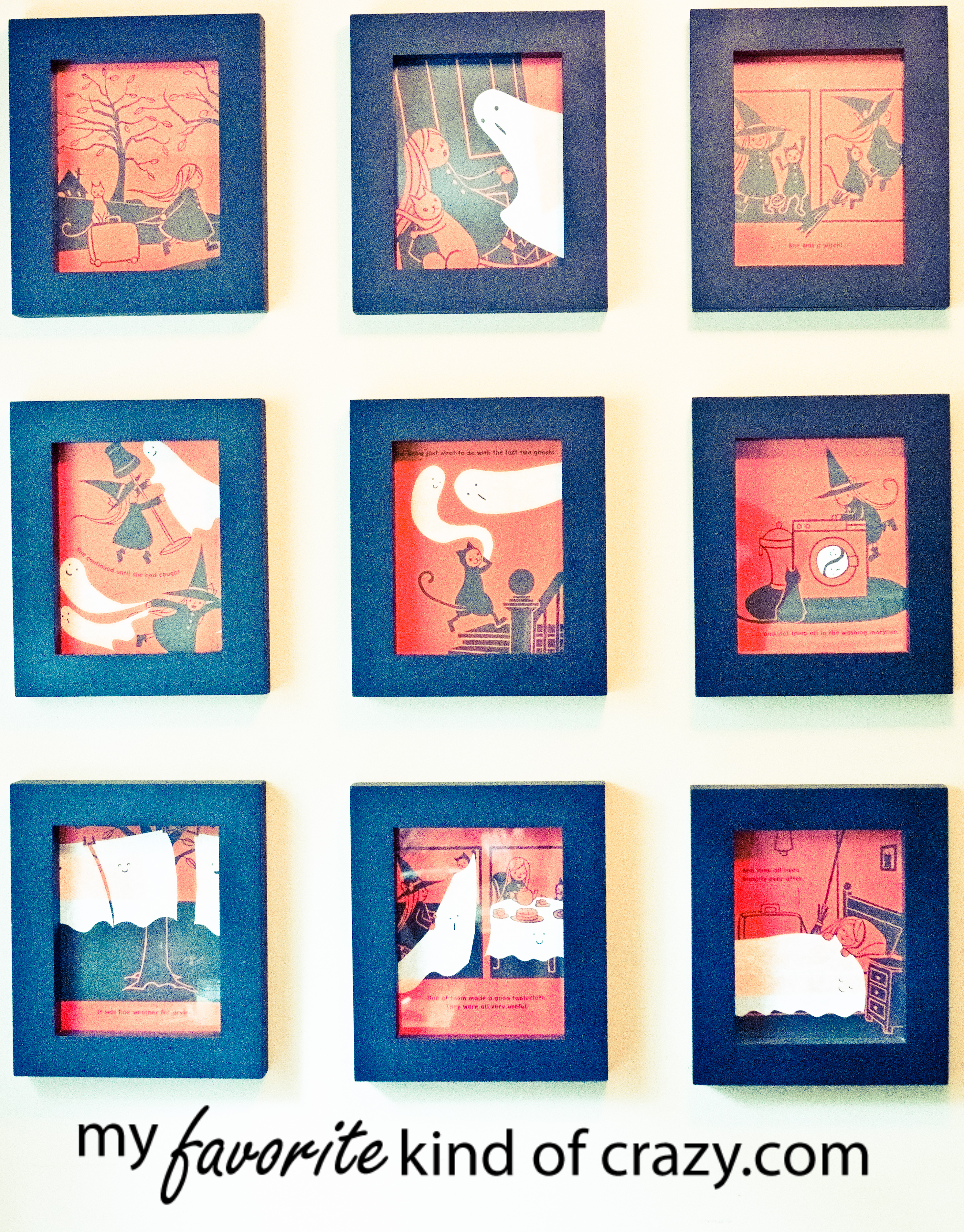 it in our frames downstairs for Halloween! Wouldn't it look great, there?" She was only about 4 and well-trained in the care and feeding of precious library books, so she did not AT ALL agree with my plan to desecrate a library book. She was somewhat mollified when I explained that I planned to purchase a copy for that purpose.
The process was obviously simple – take the book apart, lay choose the pages that best captured what I wanted on the wall (in terms of the art and the story), lay the glass from my frames on top of the pages and use and Exacto knife to cut the pages to size. Super simple . . . my favorite type of project.
Now we love getting it out every year, re-visiting the charming story, and then we get to hang it on the wall as something we can enjoy every day for a few weeks each year!
If you happen to love the artwork in Ghosts in the House as much as I do, there is a a simple art project at this blog that was based on the book:
http://unschoolme.blogspot.com/2009/10/haunted-house-craft.html