There's just something about applesauce bread. It's warm and comforting. It smells FANTASTIC while it's baking. It's wonderful plain, it's delectable with butter, and I love it with peanut butter! It even makes a great sandwich for lunch with peanut butter and possibly a little bit of honey. Yum!
Now that I've typed all this, I need to go and make some more.  NOW.
Gluten Free Applesauce Bread
Ingredients
1 1/2 cups Gluten Free All Purpose Flour*
3/4 cup Rapadura or Sucanat (or 1/2 cup honey**)
1/2 teaspoon xantham gum
1/2 teaspoon baking powder
1/2 teaspoon baking soda
1/4 teaspoon salt
1 teaspoon cinnamon
1/2 teaspoon nutmeg
3/4 cup applesauce
2 eggs
1/4 cup butter, melted
Directions
Preheat oven to 350 degrees. Grease loaf pan.
Mix together dry ingredients.
Add wet ingredients and mix well.
Pour batter into greased loaf pan and bake for about 45 minutes, or top looks set and toothpick comes out clean.
* You can buy yours pre-mixed, or there's a great tutorial by Gluten-Free Girl and the Chef, or here's what's currently in mine (we like a whole-grain-type flour):
4 Cups Sorghum Flour
3 Cups Brown Rice Flour
2 Cups Potato Starch
1 Cup Tapioca Starch
Basically, you're shooting for a mixture that's about 70% whole grains and 30% starches.
** If you choose to use honey, you'll want to watch it closely. Honey browns more quickly than the other sugars.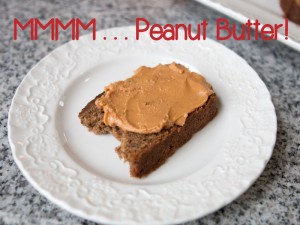 We love Applesauce Bread with peanut butter SO much, that it was impossible for me to take a picture without someone taking a bite out of it first!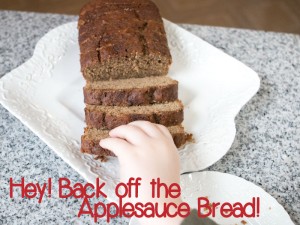 And, if you don't move quickly around here, little hands will suddenly appear in your pictures helping themselves to the subject of your photography. We aren't the most patient bunch.