Mmmmm . . . Fall and pumpkin . . . they just go hand in hand. Truthfully, I like pumpkin just about anytime, which is why I keep a lot in my freezer year-round. I like to decorate with pumpkins that roast well and look good – Fairy Tale and Cinderella Pumpkins have been my favorites over the years. Using my decor for food later makes me feel SO much better about spending money in the fall on some pumpkins to sit around the house. And, as long as you don't make them into Jack-o-lanterns, they usually last the full season and leave you plenty of time to roast them and get them in the freezer. This year, I'm trying a cushaw squash, as recommended by the farmer at the market this year. It's a totally a different look, but he says they're delicious! We shall see!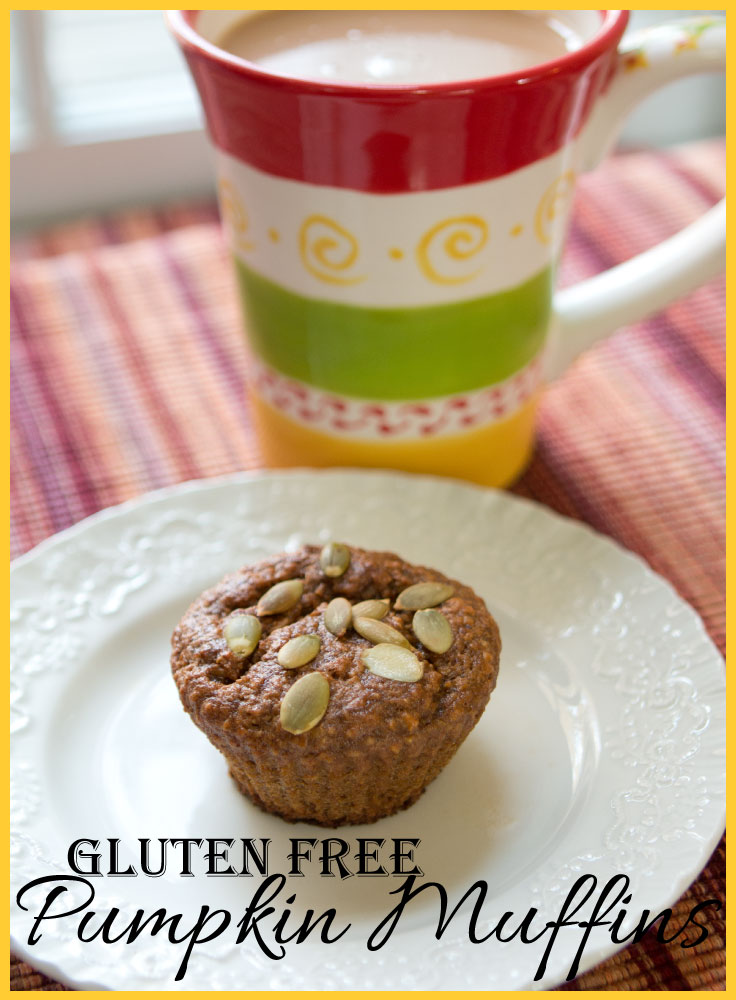 This morning, we tried out a new recipe. We're always trying out new recipes. My husband says I have a very difficult time leaving well enough alone. True. Why settle for "well enough" when you can shoot for "AMAZING!"???? I try something new and then tweak it and tweak it and tweak it. I prefer to think of recipes as a "suggestion."
So, I pass along to you my "suggestion" for Gluten Free Pumpkin Muffins.  This recipe was adapted from a recipe I found at Grain Meal Wagon. Their version is dairy and egg free, so if you'd like to see their version, head on over there. My version is below.
You'll see these are made with oat flour. The lovely thing about oat flour is that anyone with a blender or food processor can make it and you can make it in small batches, so you have just enough for a single recipe. Just blend or process oats (rolled or quick) until you have a texture you like (I like mine to still have some small identifiable oat crumbs in it, so it's not all super fine.)
Gluten Free Pumpkin Muffins
Dry Ingredients
1 1/2 cups freshly-ground oat flour
1/2 cup tapioca or potato starch
1 tsp. xanthan gum
3 Tbsp. flaxseed meal
1 Tbsp. baking powder
1/2 tsp. salt
1 tsp. cinnamon
1/2 tsp. nutmeg
1/2 tsp allspice
1/2 tsp ginger
1 1/2 cups sucanat
Wet Ingredients
1 TBSP Molasses
1 Egg
2 tsp. vanilla
1 cup pumpkin puree
1/4 cup coconut oil

3/4 cup milk (any kind)
Optional Ingredients
Directions
1. In a large bowl, mix together dry ingredients.
2. Add wet ingredients. Mix well.
3. Sprinkle pumpkin seeds on top.
4. Spoon the batter into muffin cups. (I use silicone ones. I LOVE them!)
5. Bake at 350 degrees for about 25-30 minutes.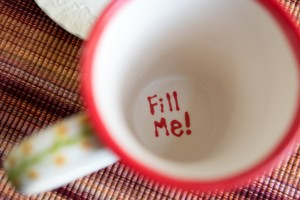 I thought the pumpkin seeds (pepitas) really took these from very good to fabulous, but my children preferred to eat their muffins naked. Silly kiddos. These would also be delicious with some mini chocolate chips, if you wanted a sweeter treat. They were fantastic with a cup of coffee this morning! And, can I just show you my coffee cup? For Christmas this past year, I gave my daughter a gift certificate for a "girls' day." She and I painted pottery, had lunch together, and went and got manicures and pedicures. So fun! I painted this mug myself and it's my favorite to drink from in the morning.  It just brightens up the day. Plus, it really DOES just beg to be filled. A little tip, though: if you're right-handed and you plan to write yourself a cute note inside your coffee cup, make sure you're holding the cup correctly.  Otherwise, you'll be reading your message upside down, and early morning pre-coffee is just simply not the time to be reading upside down.
This post linked up at: