Here are reviews of 3 great games for children gift ideas! All of these are small and transported pretty easily.
Games for Children#1: Uno to Go
This is a brilliantly designed set of Uno cards! This is exactly the same as your standard Uno game, except that the cards are laminated. The lamination is such that the cards hold up EXTREMELY well under a LOT of circumstances:
Playing beside the pool, at the beach, or on a boat.
Playing with a child who tends to bend cards (these cards are NOT easily bent!)
Playing and eating, especially with children. These cards wipe clean in a flash!
Playing anywhere on the run. I kept this deck of cards in the bottom of my purse (a TERRIFYING place, if I do say so) for 2 or 3 weeks and they looked just as good at the when I pulled them out to play with at my parents' home for Thanksgiving as they did when I threw them in my purse to take to entertain my son somewhere all those weeks earlier.
When I purchased these, I was concerned about how well they would shuffle because of the lamination. I needn't have worried. I actually think they shuffle more smoothly than most regular decks of cards.
My ONLY real complaint about these cards is the plastic ring they come with to keep them together. It's very difficult to get them on and off. There are lots of alternatives to that, though, so the problem is easily solved.
Games for Children #2: Rush Hour
Thinkfun has a lot of excellent games on the market, but this is one of our favorites. The game is called Rush Hour Jr., and while the manufacturer recommended age is 6 and up, our son has been interested in playing since he was 4 and increasingly adept at playing since he turned 5. To play, you set up the board as shown on one of the various challenge cards (which are colored and numbered based on their level of difficulty). You then slide the cars around in order to free the ice cream truck from traffic. It's a lot of fun, comes with a storage bag, and travels pretty nicely. I do wish that the cards stored in a drawer underneath the game board instead of in a paper card box (they do with the adult version of the game, which is also lots of fun . . . we owned it for years before we had children. It's great on car rides. For children, of course, the hazard of playing this in a car is that they pieces fall to the floor or beneath/between seats, but for adults it's great road trip entertainment!)
Game for Children #3: Othello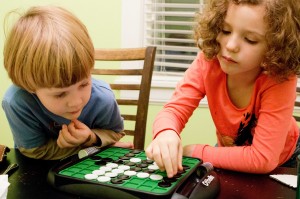 One game my children (ages 5 and 7) have REALLY enjoyed playing lately is Othello. It's a game that is fairly easy to explain and, much like checkers, can be played with a very simple play-by-play strategy, or with a more complicated forward-thinking strategy. My children have enjoyed playing against a parent, as well as playing against each other unassisted. It looks like this version of the game is really no longer available. There's nothing particularly special about this version. The newer version made by Mattel comes with covers for the chips so that the board and chips can be self-contained, which would be nice!
For other gift and game reviews that have been posted on the blog, check out this page!
.