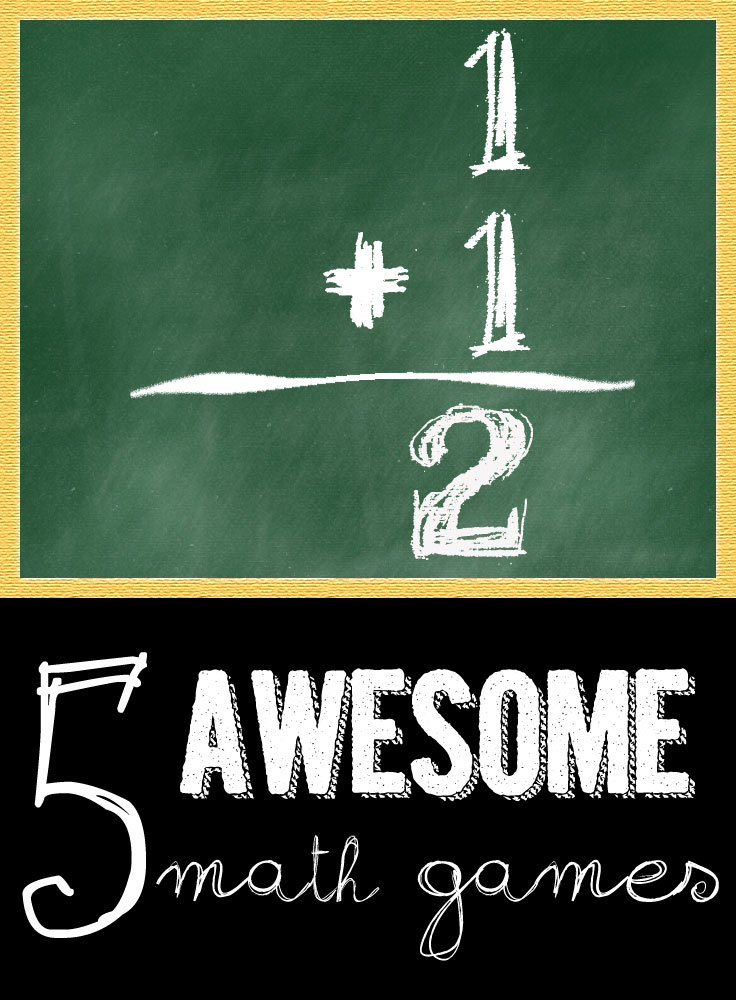 I don't know if any of you have picked up on this yet . . . but we like games around here.  We like them so much that I think I've mentioned games about a million times on the blog already. I've mentioned them here and here and here, and that doesn't even count the homeschool-related posts I've mentioned them in. So . . . yep. There's no doubt about it. We definitely like games.
I'm always looking for great games to add to our collection, and it's not unusual for a game or two to show up around here on any of the occasions that call for gift-giving. My kids really don't mind at all if a game is educational, as long as it's fun. Consequently, we own a LOT of educational games. Especially math games. I separated the games earlier this year so that the ones that are more for pure fun are down with the toys and the ones that are more educational are with our school stuff. It hasn't made a bit of difference. The kids just pull out what they're in the mood for. The educational ones come out every bit as often as the others.
Since we're talking about math games here, I'll remind you just for reference that my children are currently 7 and 5.
Here are some of our absolute favorite math-related games:
Math Game #1: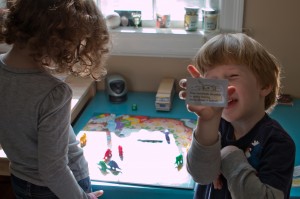 Dino Math Tracks. We've owned this game for at least two years. It teaches place value up to the 1000s. My children LOVE this game. The game can be played multiple ways depending on the age and ability of the child.
Math Game #2:
Sum Swamp. This game gets played around here ALL.THE.TIME. At least once a week I come in and discover that my children are playing this one. Usually at the dining room table. And, usually someone is SITTING on the dining room table. We're raising great game players around here, but respect for furniture and a general knowledge of manners is really lacking. I try not to fuss too much, since they are voluntarily electing to do math. This game is a great introduction (or reinforcement) of the basics of addition and subtraction. It has simple rules and play is generally pretty quick. A single round usually lasts under 20 minutes. My children often play more than one before moving on.
Math Game #3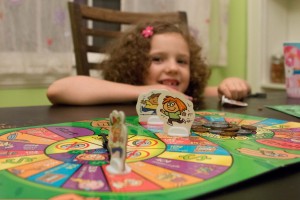 Money Bags. This is a great game for learning about the value of coins and how to combine them. You earn money by landing on the labeled spaces and spin to see what kind of coins you're allowed to receive from the bank. Then, you have to figure out how to combine the permitted coins in order to collect your wages. We've owned this game for a while, but this year we finally hit the right age for playing it, and it's become very popular around here. They've gotten much better at calculating with coins!
Math Game #4
4-Way Count Down. This is a great game! It's easily transported and easily stored. It can be used for kids of a HUGE variety of ages and skill-sets. We typically play a simple addition version with my son, but you can play with addition, subtraction, multiplication, or division (or any combination). This is a handy game to carry with you when you want to keep a child entertained. It's about the size of a large book. The only loose pieces are the dice, and they get rolled within the game box, so there's very little that can get lost. Our only suggestion for improving the game would be to put a piece of felt down in the center of the box to make rolling the dice quieter. Other than that, this is nearly the PERFECT game!
Math Game #5
Math Dice. Another simple and well designed game for reinforcing mental math. To play, you roll the odd sided white die to reveal a number. Then, roll the five regular (colored) dice to give you a set of numbers. You must use one or more of the numbers shown on the colored dice to make the first number. You move one space for every colored dice you use to arrive at the correct answer, so you gain points for making your solution more complicated. This is another game that can be played with a younger child using just addition (this is how we typically play with my son) or with an older child using all four operations and reinforcing addition, subtraction, multiplication and division in the process.  The game comes with a storage bag and is small enough to stick in your purse and carry with you for playing on the run. However, rolling the dice is part of the game and you do have to keep an eye on the trajectory of the dice (I have some crazy dice rollers, so I speak from experience!) in order to keep from losing any when you're out and about!
I know you're thinking that I can't possibly come up with any more games to recommend, but I can! We seriously LOVE games! And while we've had our fair share of duds around here, I won't share those with you. For now, this post is PLENTY long, so I'll save some of my non-math related games for another time!
In the meantime, if you've got great math game recommendations, I am anxious to hear them! Please add them in the comments so I can go and check them out!
And, if you're interested in some of the things that have been successes around here that AREN'T games . . . you can always check out this page!
.