Trying to post this meal plan every Monday has made me MUCH more committed to getting it done! We certainly don't stick to it 100% every week, but it has been wonderful to have a plan that we ATTEMPT to adhere to!
My absolute favorite new recipe from last week was the Slow-cooker Quinoa Chicken Chilli from Queen Bee Coupons. I was a bigger fan of it than the rest of my family, but they're CRAZY and you should NOT base any decisions on their judgement, whatsoever. It was wonderful! I reduced the spices, because the rest of my family is not a fan of spicy food (did I mention that they are c.r.a.z.y?). If you're okay with a little more flavor than the other folks around here, just leave the recipe alone. It was very, very good! Absolutely perfect for this fall weather that we're having!
So, here's the plan for feeding people this week:
Monday
Out of a box (cereal or granola)
Salmon Patties
Pot Roast, Parmesan Cabbage (NEW), Roasted Carrots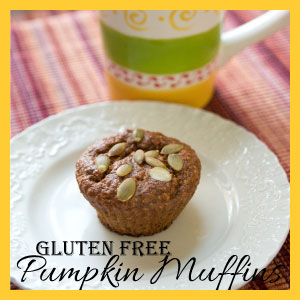 Tuesday
Gluten Free Pumpkin Muffins
Sweet Potatoes
Black Beans and Rice (NEW), Corn Tortillas, Leftover Pot Roast
Wednesday
Leftover Gluten Free Pumpkin Muffins
Almond Butter Sandwiches on GF Bread, Carrots, Apples and Bananas
Breakfast for Dinner
Thursdsay
GF Applesauce Bread
Tomato Soup, Grilled Cheese on GF Bread
Oven Baked Samon, Baked Zucchini (NEW), Purple Hull Peas
Friday
Leftover Applesauce Bread
Hummus, GF Pita (NEW), Carrots and Apples
Homemade Nachos (Movie Night!)
Saturday
Leftover from the week or Out
Roast Chicken, Carrots, Green Beans
Sunday
Leftover GF Pancakes
Chicken and Rice Casserole, Broccoli
Dinner with our Home Church
Snacks for the week
Homemade: Super Swim Bars (Granola Bars), Roasted Pumpkin/Squash Seeds, Almonds and Chocolate Chips, Smoothies, Popcorn, Apples/PB/Granola Sandwiches
Storebought: Fruit Pouches, Freeze-dried Fruit, Granola Bars, Gluten Free Pretzels
If you're looking for a menu plan template, you are welcome to download this one by clicking on the image below. It's in Word, so you can edit to your heart's content.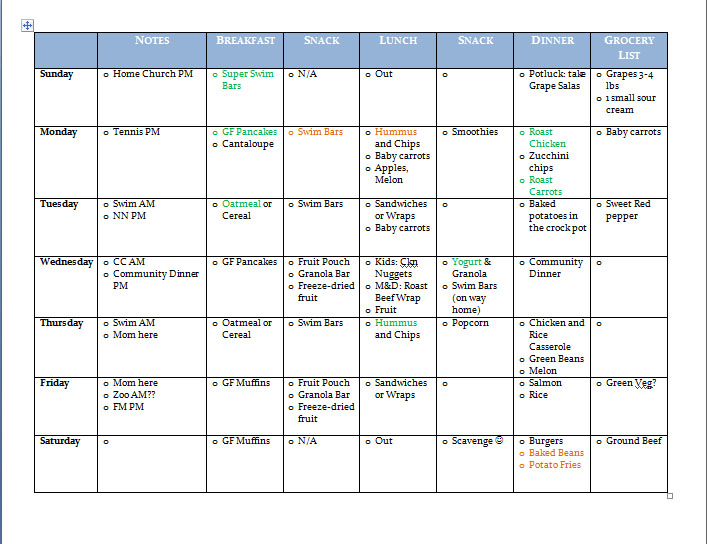 Source of graphic in header: www.wallm.com
This post linked to: