Whew, last week was hectic! We made a few changes to the menu along the way. I tried a cauliflower crust pizza on Saturday night.  That was NOT a winner of a recipe for us, so I won't be including it here! You can thank me later.
I'm going to start posting reviews of the new recipes that we try, so I'll mark here the ones that are new, just so that you'll know that they're not something we've tried before. If you want to check back on Saturday or Sunday, I'll post a review of what we thought . . . and whether they'll be showing up on the meal rotation in the future!
Monday
PB&J and Leftovers
Breakfast Hashbrown Casserole (NEW), Eggs, Gluten Free Biscuits
Tuesday
Leftovers from dinner: GF Biscuits, Hashbrown Casserole
Grilled Zucchini Pizza Slices, Baked Sweet Potatoes
Slow Cooked Cider Pork Chops with Pumpkin and Apples (Edit: Recipe Reviewed HERE), Green Beans
Wednesday
Baked Oatmeal, Mini Quiches
Sunbutter and Honey Sandwiches, Apples and Bananas
Community Dinner at Church
Thursdsay
Leftover Baked Oatmeal
Gluten Free Tortillas (NEW), Refried Beans and Cheese
Pot Roast, Carrots and Broccoli
Friday
Pasta and Side Salad
Out
Snacks for the week
Homemade: Super Swim Bars (Granola Bars), Roasted Pumpkin/Squash Seeds, Almonds and Chocolate Chips, Smoothies, Popcorn
Storebought: Fruit Pouches, Freeze-dried Fruit, Granola Bars, Gluten Free Pretzels
If you're looking for a menu plan template, you are welcome to download this one by clicking on the image below. It's in Word, so you can edit to your heart's content.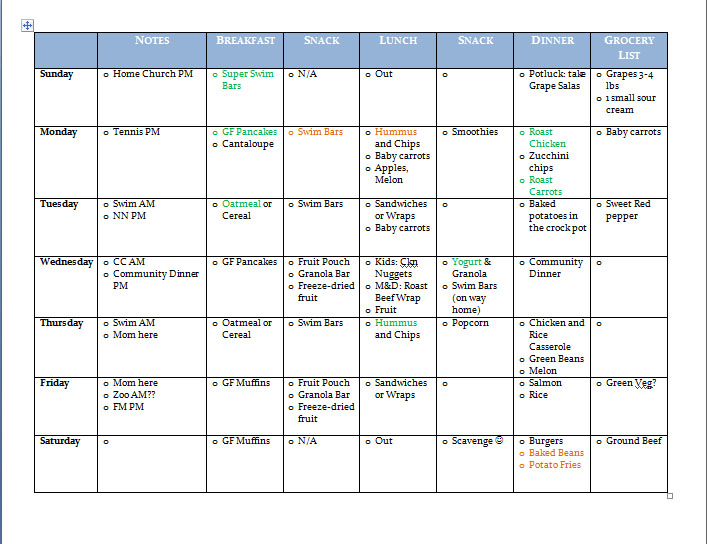 This post linked to:
 I'm enjoying this blogging experiment! I would enjoy it even more if you would share me with your friends!