Just your average crazy week around here coming up!
A reminder – if it's marked as "NEW" we haven't tried it before. Assuming things go according to plan (snort!) this week, you can check back over the weekend for a review of the ones that we enjoyed and plan to make again.
Monday
Gluten Free Cinnamon Chocolate Chip Muffins
Salmon Patties
Pot Roast, Parmesan Cabbage (NEW), Roasted Carrots
Tuesday
Leftovers from GF Cinnamon Chocolate Chip Muffins
Flat Bread Sandwiches or Wraps
Slow Cooker Quinoa Chicken and Chili (NEW!)
Wednesday
Baked Oatmeal, Mini Quiches
Hummus, GF Pita, Carrots, Apples and Bananas
Fall Festival at Church
Thursdsay
Leftover Baked Oatmeal
Gluten Free Tortillas (NEW), Refried Beans and Cheese
Oven Baked Samon, Baked Zucchini (NEW)
Friday
Oat Flour Pumpkin Muffins (NEW)
Hummus, GF Pita, Carrots and Apples
Creamy Shrimp and Pasta
Saturday
Leftover Oat Flour Pumpkin Muffins
Leftovers from the week or Out
Black Beans and Rice (NEW)
Sunday
Out
Breakfast for Dinner
Snacks for the week
Homemade: Super Swim Bars (Granola Bars), Roasted Pumpkin/Squash Seeds, Almonds and Chocolate Chips, Smoothies, Popcorn, Apples/PB/Granola Sandwiches
Storebought: Fruit Pouches, Freeze-dried Fruit, Granola Bars, Gluten Free Pretzels
If you're looking for a menu plan template, you are welcome to download this one by clicking on the image below. It's in Word, so you can edit to your heart's content.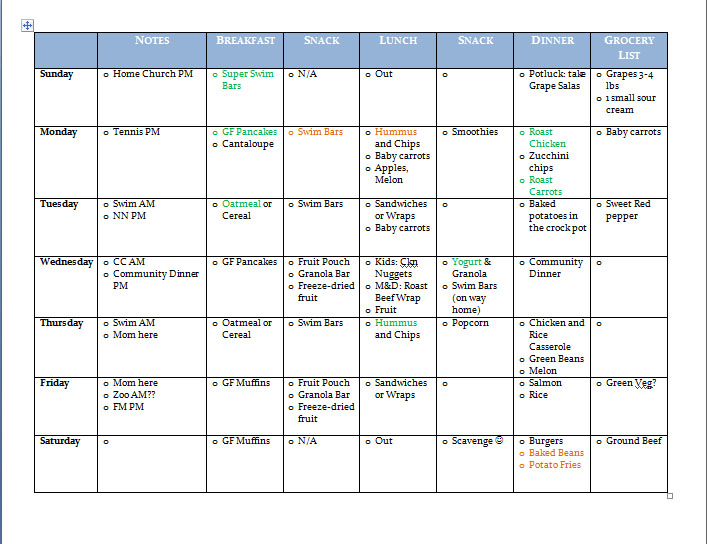 This post linked to: