Time to start easing into the Fall food! Pumpkins and soups, coming up!  It must be Fall, because around here, a lot of leaves got swept up and moved to the chickens' area this weekend! The chickens are very happy to have some new playthings, but I think the kiddos are going to be vying for their own leaf pile to jump in on the next leaf-sweeping go-round!  In the meantime, here's the general game plan for feeding everyone this week:
Monday
Pumpkin Spiced Oatmeal
Black Bean Soup, Chips, Apples and Melons Roast Chicken, Roasted Asparagus and Carrots
Tuesday
GF Pancakes
Pasta and Salads, Grapes and Apples Crock Pot Baked Potatoes with Butter and Roast Beef
Wednesday
Leftover
GF Pancakes
Roast Beef Wraps and fruit Dinner at church
Thursdsay
Lizy's Special Oatmeal (Chocolate Chip Oatmeal)
Hummus and chips, baby carrots, apples and grapes Lamb kabobs with peppers and mushrooms
Friday
Cold Cereal Roast Beef and Munster Wraps GF BBQ Chicken Pizza, Salad and Fruit, GF Snickerdoodles
Saturday
Bacon, Eggs, and 
GF Carrot Zucchini Muffins
Goat cheese or Hummus and 
GF Wheat Thins
, Grapes and Apples Smoothies and Popcorn (Movie Night!)
Snacks for the week
Homemade:
Super Swim Bars (Granola Bars)
, Smoothies, 
Yogurt 
and Granola, Popcorn Storebought: 
Fruit Pouches
, 
Freeze-dried Fruit
, 
Granola Bars
, 
Gluten Free Pretzels
  If you're looking for a menu plan template, you are welcome to download this one by clicking on the image below. It's in Word, so you can edit to your heart's content.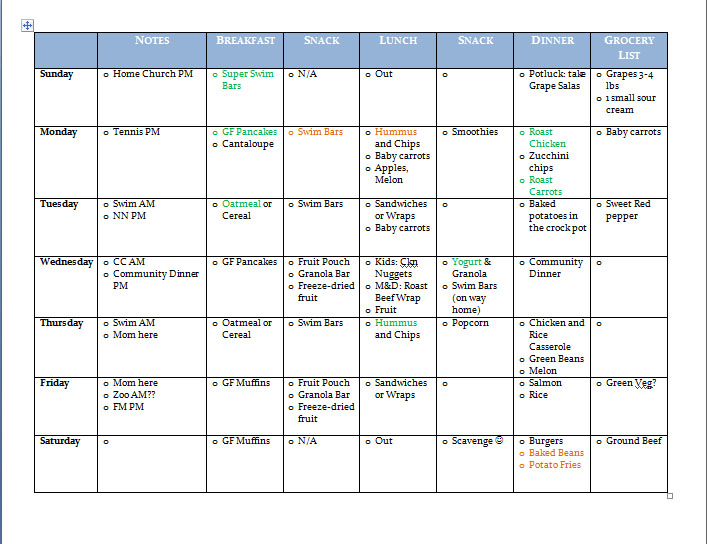 This post linked to: