We're mostly planning tried and true meals for this week's menu plan.  I'll be headed out on Friday for a Ladies' Retreat with our church. That means that I don't have to feed anyone for 24 hours at the end of this week. Woohoo! Daddy's in charge!! Daddy is much cooler than Mommy (and throws the menu plan out the window), so there is no telling what's in store around here. It's probably best that I don't know. I tend to spoil all the fun.
So, here's the plan for feeding people this week: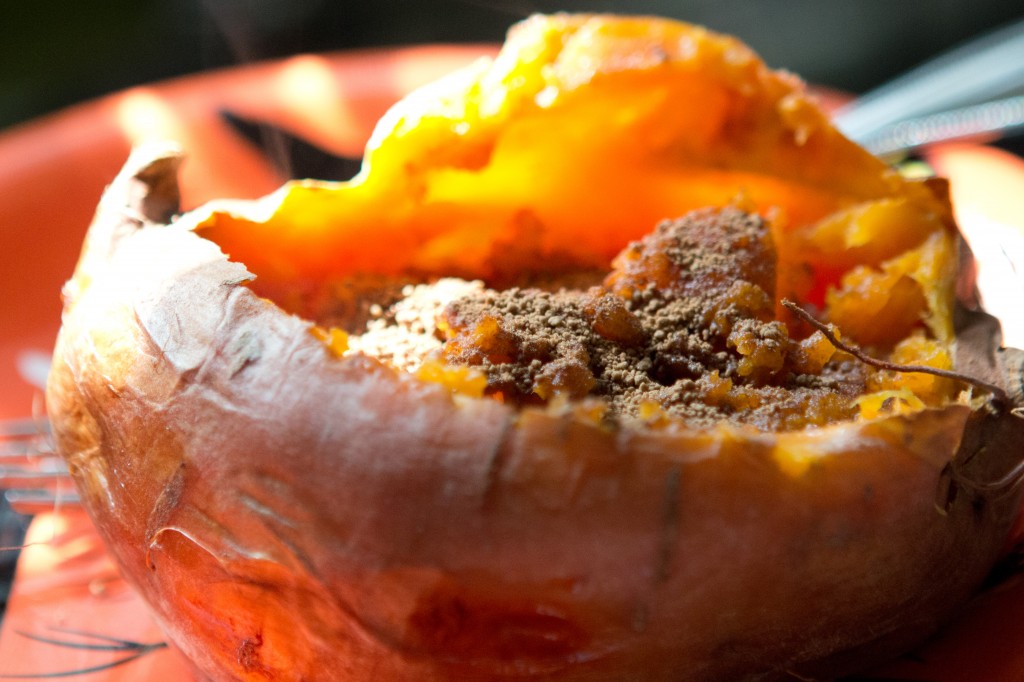 Monday
Eggs, Gluten Free Biscuits, Fruit Smoothies
Sweet Potatoes and Side Salads
Roast Chicken, Green Beans, Purple Hull Peas
Tuesday
Gluten Free Applesauce Bread
Chicken & Rice Casserole, Broccoli, Butternut Squash
Wednesday
Leftover Gluten Free Applesauce Bread
Almond Butter Sandwiches on GF Bread, Carrots, Apples and Bananas
Community Dinner at Church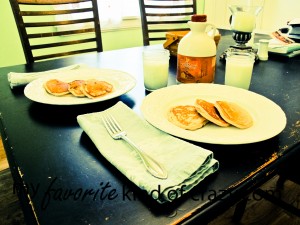 Thursdsay
Tomato Soup, Grilled Cheese on GF Bread
Oven Baked Salmon*, Gluten Free Zucchini Patties, Purple Hull Peas
*Now that I know that the Salmon IS in the freezer!
Friday
Leftover Gluten Free Pancakes
Hummus, GF Pita (NEW), Carrots and Apples
Daddy's Choice . . . Mom is away at Ladies Retreat!
Saturday
Baked Oatmeal
Leftovers from the week or Out
Shrimp and Alfredo Pasta, Side Salads
Sunday
Leftover Baked Oatmeal
Out
Breakfast for Dinner
Snacks for the week
Homemade: Super Swim Bars (Granola Bars), Popped Amaranth and Bananas, Almonds and Chocolate Chips, Smoothies, Popcorn, Apples/PB/Granola Sandwiches
Storebought: Fruit Pouches, Freeze-dried Fruit, Gluten Free Pretzels
If you're looking for a menu plan template, you are welcome to download this one by clicking on the image below. It's in Word, so you can edit to your heart's content.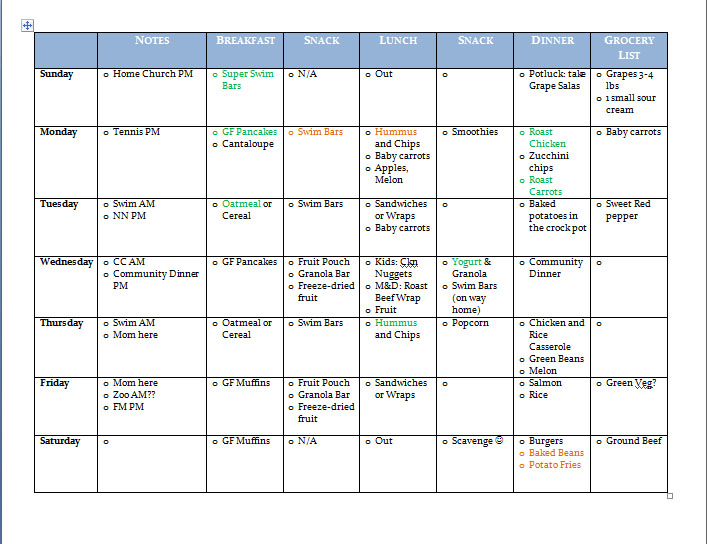 This post linked to: