One night this past week, I went to the freezer to pull out the salmon to make for dinner, per the Menu Plan, only to discover there was no salmon there. ACTUALLY, there WAS salmon there, but I couldn't SEE the salmon because it was buried in the chaos of my freezer . . . and that should be the subject of a whole blog series in and of itself: creating order from chaos in the freezer. I'll get right on top of that.
In the meantime, here are the "save the day" quick dinner recipes that got us through that evening:
Quick Dinner Recipes –
Egg Drop Soup and Tuna Fried Rice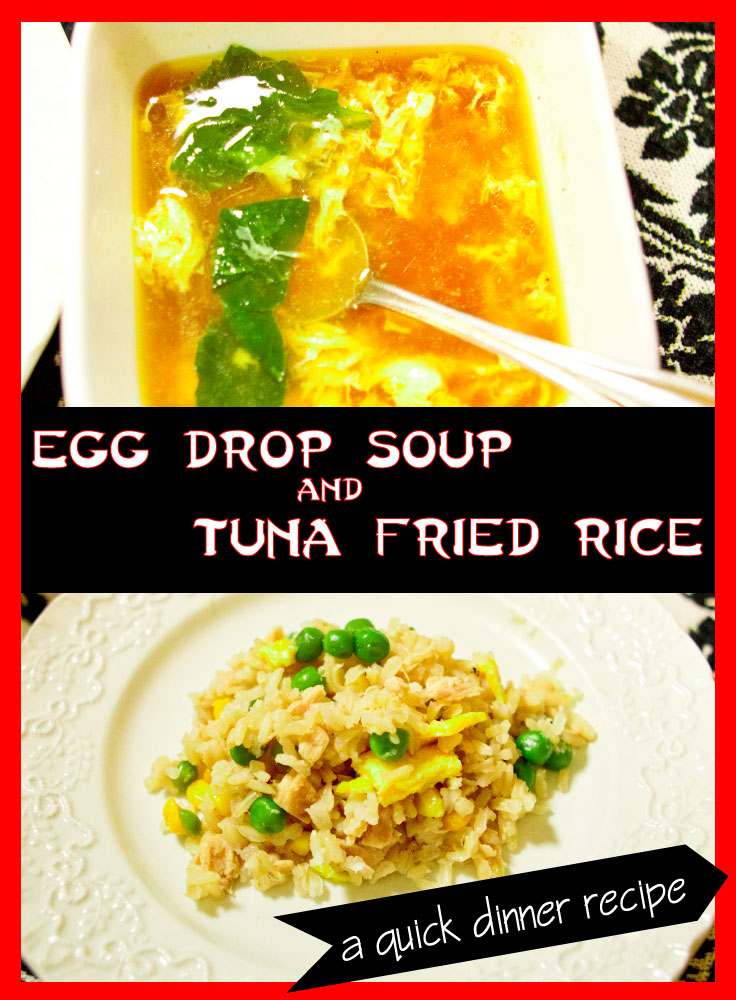 Egg Drop Soup
Ingredients:
5 cups chicken broth
3 cups packed baby spinach leaves
3/4 teaspoon Asian sesame oil
3/4 teaspoon vietnamese fish sauce (or substitute miso)
3 eggs
salt
Optional: sliced green onions
Directions:
Heat chicken broth over medium-high heat until boiling.
Stir in the spinach leaves, sesame oil, and fish sauce  (or miso) and cook until the spinach begins to wilt.
Beat eggs well.
Stir broth mixture with one hand, so it moves in a circle around the pan, while slowly pouring in the eggs with your other hand.  Swirling motion and heat will cook and create thin ribbons of eggs.
Spoon into individual bowls and top with green onion if desired.
Tuna Fried Rice
Ingredients:
2 eggs
1 tbsp. milk
olive oil
4 cups cooked brown rice
1 5-oz. canned tuna, drained and flaked with fork
3/4 cup peas
1/2 tsp. salt
1/4 tsp. pepper
1 tbsp. soy sauce
Optional: 3 tbsp. cup finely chopped green onions (green part only)
Directions:
Heat a large skillet over medium heat. Add enough olive oil to pan to coat.  Whisk together milk and eggs. Add to skillet, and cook for 2-3 minutes, or until eggs are set. Remove from heat. Fold eggs into quarters and chop finely. Hold eggs on plate.
Recoat pan with olive oil, and place over medium high heat again.  Add green onion, if desired, stirring for about 2 minutes.  Add rice, corn, peas, garlic powder, salt, pepper, and soy sauce.  Cook for about 2 minutes.  Add tuna and eggs, gently stirring for another 2 minutes, until heated through.  Serve.